Important information
Location: Nagadeepa Rajamaha Viharaya, Nainativu Island, Sri Lanka
Festivals: Janmashtami, Rath Yatra, Tulsi Vivah For Other Festival Details Click here
Main Deity: Lord Buddha
Languages: Sinhala & Tamil
Darshan Timings: 06.30 AM To 05.00 PM
Best Season To Visit: All Time
Nagadeepa Purana Vihara Temple Contact Number: +94213213356
Nagadeepa Purana Vihara temple is an ancient Buddhist temple. Nagadeepa Purana Vihar temple is located in the Jaffna district of Sri Lanka in the northern province. This temple is among the country's sixteen holiest Buddhist shrines.
As per history, the Gautama Buddha visited this site after the five years of attaining Enlightenment. As per mahavamsa chronicles and the Tamil Buddhist epic, manimekalai mentions gem-studded stone with the buddha's footprint at the island of Ninativu which is also known as Nagadeepa island.
You may also like Other Temple Details :
History of Nagadeepa Purana Vihara Temple
The site is known as the place where the Lord Buddha came during his second visit to Sri Lanka.After five years of attaining enlightenment and also settling a dispute between two Naga Kings Chulodara and Mahodara over the possession of the gem of a studded throne.
When Buddha saw the Naga kings were prepared to fight. Lord Buddha used physical powers to appear In the sky. This made Nagas very happy. After listening to the Dhamma sermons displaying Buddha's Mastery in unity, compassion, and mentha. Both the Naga kings homage to Buddha with the faith and the throne was offered to Buddha in unison and pious devotees.
A deity named Samiddhi Sumana made the banyan tree. and holding the uprooted tree as an umbrella to him. The naga king Maniakkitha was moved by the compassion of the Buddha and thanked him for settling the dispute. He further pleaded for souvenirs to worship and Buddha offered him rajayathana tree and the throne.
This temple was reconstructed by King Devanampiya Tissa and it is converted into a sacred place.
Other Pilgrimage in Nagadeepa
Rajayathana Stupa
Lord Bodhi Tree of Nagadeepa
Palace of Relics (Dhathu Mandiraya)
The Standing Statue of Lord Buddha
Prarthana White Bodhi Tree
Kiripalu Nuga Tree
Nagadeepa Temple Museum
Sathara Maha Devalaya of Nagadeepa Temple
Naga Pokuna (Ancient Pond)
Nagadeepa Purana Vihara temple Darshan Timing
| | |
| --- | --- |
| Monday to Sunday | 9.00 AM TO 5.00 PM |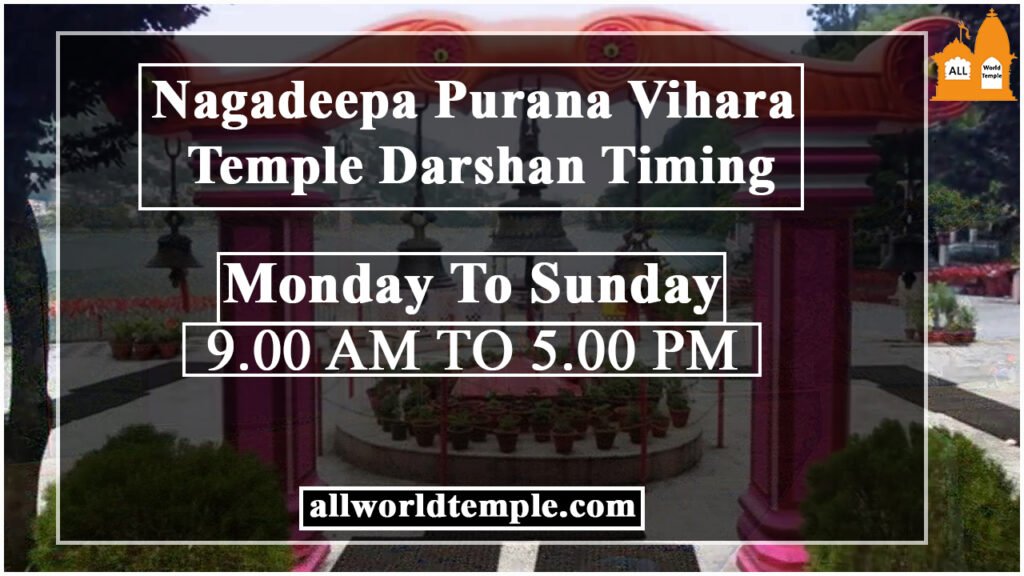 Nagadeepa Purana Vihara Temple Video