Important information
Location: Bilwa Parvat, Mansa Devi, Haridwar, Uttarakhand 249408, India
Festivals: Navratri
Main Deity: Mansa Devi (Shakti)
Languages: Hindi
Darshan Timings: 5.00 AM To 09.00 PM (Winter)|| 4:00 PM To 10:00 PM (summer)
Best Season To Visit: May to September (Summer) and December & January (Winter)
Mansa Devi temple Haridwar is the temple of goddess Mansa Devi in the holy city Haridwar of Uttarakhand state of India. This temple is located on the top of the Bilwa Parvat the southernmost mountain chain of the Himalayas Shivalik hills. This temple is also known as the Bilwa Tirthas this temple falls into the category of the Panch Tirth within the Haridwar. Mansa Devi temple is Siddh Peeth of Haridwar. There are three Siddh Peeth in the Haridwar two behind Chandi Devi temple and Maya Devi temple third one is Mansa Devi temple.
History of Mansa Devi Temple Haridwar
The temple is known for the holy of Mansa Devi a form of the shakti. It is believed that the Mansa Devi emerged from the mind of lord Shiva and Mansa is the sister of the naga Vasuki. It is also believed that she is the daughter of lord shiva in his human incarnate.
The term Mansa means to wish. If a devotee is sincere then his/her wish will be fulfilled. there is also one folk tale behind this. Mansa is a common girl who is unaware of her complete truth from her parents. she decides to meet lord shiva and ask him about her truth after meeting with lord shiva to clarify her truth from him.
After learning the truth she attained the powers of the goddess of welfare for the world. Devotees of Mansa Devi for fulfilling their wishes tie threads to the branches of a tree located in the temple. Once their desires fulfilled devotees are come back again and untie the thread from the tree and also offer coconuts, and fruits to goddess Mansa Devi
Importance of Mansa Devi Temple
Mansa Devi temple is considered a must-visit temple for the pilgrims going to Haridwar. This enhances the holy tradition of Haridwar. Mansa Devi temple offers views of the Ganga river and plains of the Haridwar.
Diety Of Mansa Devi
The Temple's inner shrine has two deities, one with eight arms and the other one with three heads and five arms.
You may also like:-
Chandi Devi temple darshan timing
Maya Devi temple darshan timing 
How to Reach Mansa Devi Temple, Haridwar
By Air: Jolly Grant Dehradun Airport is the nearest Airport to Haridwar situated at a distance of 37 km. Taxis are easily available from Jolly Grant Airport.
By Train: The nearest railway station is 4.3 km from Haridwar Railway Station. Haridwar is well connected by railway networks with major destinations of India.
By Road: This Temple is 15 Km away from Haridwar. So, It is very easy to reach Mansa Devi Temple.
>To reach Mansa Devi temple there are two ways. you can reach this temple by using the trekking route or you can use the ropeway service of Mansa Devi temple.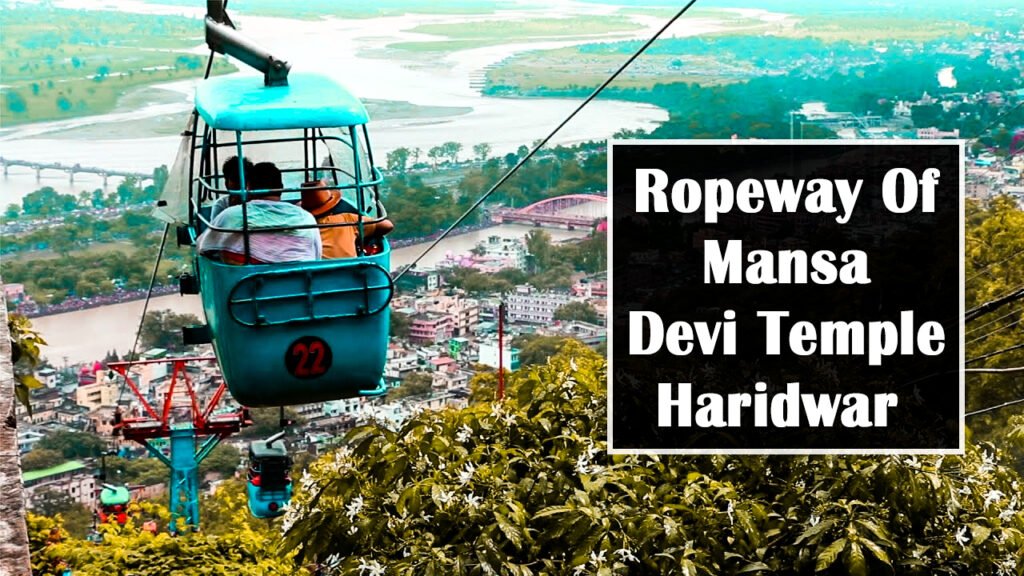 Ropeway service is also known as the "Mansa Devi udankhatola".it is used for transporting pilgrims to the nearby Chandi Devi temple. this ropeway carries the pilgrims from the lower station directly to the mans Devi temple. The total length of the ropeway is 540 meters and the height is 178 meters.
Mansa Devi Temple Timings
Mansa Devi Temple Darshan Timing
| | |
| --- | --- |
| Morning Timing | Evening Timing |
| 5:00 AM to 12:00 PM (Winter) | 2:00 PM to 9:00 PM ( Winter) |
| 4:00 AM to 12:00 PM (Summer) | 2:00 PM to 10:00 PM (Summer) |
Mansa Devi Temple Aarti Timing
| | |
| --- | --- |
| Morning Timing | Evening Timing |
| 6:00 AM (Winter) | 6:00 PM (Winter) |
| 5:00 AM (Summer) | 7:00 PM (Summer) |
Mansa Devi Ropeway Timings, Ticket Cost, Booking:
| | |
| --- | --- |
| Morning Timing | Evening Timing |
| 7:00 AM to 12:00 PM | 2:00 PM to 7:00 PM |
7:00 AM TO 7:00 PM
Types of Ticket

Final Rate including CGST and SGST
Normal (Two Way)
₹349.00 (Approximately )
One Way
–
Child Ticket (BELOW 110 CMS)
₹195.00 (Approximately )
TRANSPORT (BUS)- BUS Service between Mansa & Chandi Devi Ropeway.
₹95.00

Sampoorna Darshan
PREMIUM TICKET- 6 ROPEWAYS
Valid for 1 year (Ambaji Gabbar, Pavagadh, Girnar, Mansa Devi, Chandi Devi, JatayaPara, Malampuzha, Taratalini)
₹712.72 (Approximately )
The above-mentioned charges might change.

Details For Mansa Devi Ropeway Booking
Half Ticket for children less than 110 cm Height.
Student ID is mandatory for Student Group pass
Retain your ticket till the end of the journey.
Tickets are non-refundable and non-transferable.
Online Booking is available on udankhatola.com
Travel duration: 10 mins. Available daily.
Other Temple in Haridwar
Har Ki Pauri Ganga Temple
Daksh Mahadev Temple
Bharat Mata Temple
Neeleshwar Temple
Jain Temple
Saptrishi Ashram
Vaishno Devi Temple
Gaurishankar Mahadev Temple
Mahamrityunjaya Temple
Bilvkeshwar Mahadev Temple
Pawan Dham Temple
Doodhadhari Barfani Temple
Anjana Devi Temple
Sati Kund Temple
Siddhpeeth Shri Dakshin Kali Mandir
Mansa Devi Video