Important information
Location: Chandi Devi Padestrian Marg, Pathari Forest Range, Haridwar, Uttarakhand 249408, India
Festivals: Chandi Chaudas, Navratri
Main Deity: Goddess Chandi
Languages: Hindi
Darshan Timings: 06.00 AM To 12.00 PM || 3:00 PM To 6:00 PM
Best Season To Visit: All Time
Chandi Devi temple is a Hindu temple of goddess Chandi Devi located about 4 Kilometers from the holy city Haridwar of Uttarakhand state of India. This temple is located at top of the Neel Parvat. Neel Parvat is situated on Shivalik hills which is the southernmost mountain chain of the Himalayas. Goddess Chandi is also known as Chandika.
Chandi Devi temple is also known as the Neel Parvat Teerth. It is one of the Panch Tirth (Five Pilgrimages) located within Haridwar. Chandi Devi temple is highly revered by the devotees which is a place of worship where all your desires get fulfilled. It is one of three such Peethas located in Haridwar, the other two being Mansa Devi Temple and Maya Devi Temple.
History Of Chandi Devi Temple Haridwar
The story behind the goddess Chandrika is as follows. A long time ago two demon kings Shumbha and Nishumbha had captured the lord Indra and thrown the gods from heaven. After prayers by the gods, a goddess emerged from Parvati.A beautiful woman sent to Shumbha. Shumbha desired to marry her and being refuse Shumbha sent his demon chiefs Chanda and Munda to kill that beautiful woman.
Both are killed by goddess Chamunda who originated out of Chandika's anger. Thereafter Chandika takes a rest for a while at the top of the Neel Parvat and later a temple was build here to remember the legend. Also, the two peaks of the mountain range are called Shumbha and Nishumbha. Chandi Devi temple is built in 1929 by the king of Kashmir Suchat Singh. However, it is believed that the main murti of Chandi Devi was installed by Adi Shankaracharya in the 8th century.
Importance of Chandi Temple
The temple is one of the most ancient temples of India. During Navratra, Chandi Chaudas thousands of devotees flock to the temple. also during the Kumbha Mela in Haridwar devotees flock to the Chandi temple. Anjana temple mother of Hanumanji is also located very near to the Chandi Devi temple. Neeleshwar Temple is also situated at the foot of the Neel Parvat. It is believed that Mansa and Chandi the two forms of Parvati. The temple of Mansa is exactly on the other side of the hilltop of the Bilwa Parvat on the opposite side of the Ganga river.
You may also like:-
mansa devi temple darshan timing
maya devi temple darsahn timing
Architecture of Chandi Devi
The rich architecture of the temple is constructed atop of the hill, from where one can have an astonishing view of the Haridwar. A stunning trek of the hill leads the devotees to Temple.
How To Reach Chandi Devi Temple:
By Air: Jolly Grant Dehardun Airport is the nearest Airport to Haridwar situated at a distance of 72 km. Taxis are easily available from Jolly Grant Airport.
By Train: The nearest railway station 4.3 Kms Haridwar Railway station. Haridwar is well connected by railway networks with major destinations of India.
By Road: This Temple 4 Km away from Haridwar. So, It is very to reach Chandi Devi Temple.
The temple is located 4km away from har ki Pauri. To reach this temple there is two way. If you passionate about the trekking you can reach this temple using a 3km trekking route from Chandighat. and another way you can be climbing a number of steps to reach this temple. Recently ropeway is introduced which is also known as Chandi Devi Udankhatola.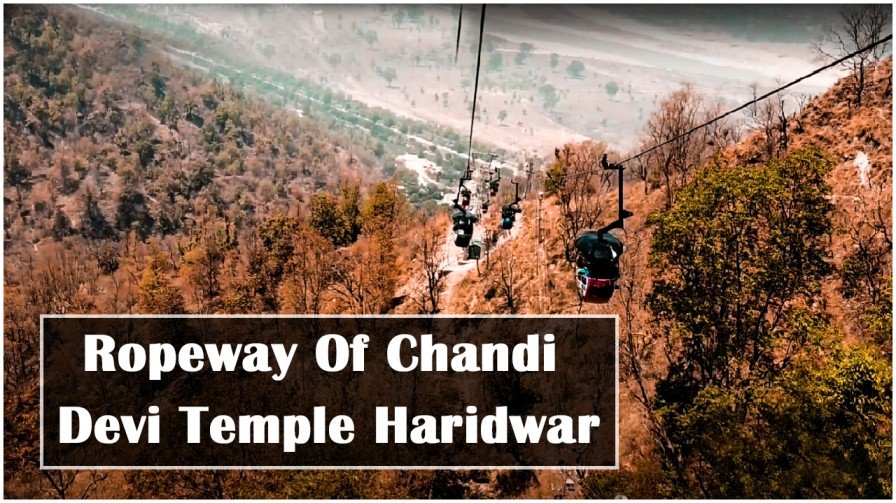 Undankhatola tower station is located near Gauri Shankar temple on Nazibabad road which leads directly to Chandi Devi temple. This tower temple is located at 9,500 ft and total length of this route is 2430ft and the height is 682ft. During the ropeway journey, you can view the Ganga river and Haridwar.
Note: Chandi Devi temple is run by mahant. Nonvegetarian food and alcoholic drinks are strictly prohibited in the temple.
Trek details:
If you are a trek lover and also have sufficient stamina then hiking is the very best option, which is simply free of cost. Chandi Devi temple is 3 kilometers from the base camp of Chandighat as mentioned over. You need to climb approx 800 steps to get to the temple. The trek takes around 45 mins. You will be enjoying the trek, yet it is tough. But still, the appeal is outstanding as you are climbing up. You will certainly be evident to the wonderful as well as praiseworthy beauty of Haridwar.
Chandi Devi Temple Haridwar Timings
Chandi Devi Temple Darshan Timing
Morning Timing
Evening Timing
6:00 AM to 12:00 PM
3:00 PM to 6:00 PM (summers) &
3:00 PM to 5:30 PM (Winter)
Chandi Devi Temple Aarti Timing
| | |
| --- | --- |
| Morning Aarti Timing | Evening Aarti Timing |
| 5:00 AM | 7:00 PM |
Chandi Devi Ropeway Timings, Ticket Cost, Booking:
8:30 AM TO 6:00 PM
Types of Ticket

Final Rate including CGST and SGST
Normal (Tow Way)
₹349.00 (Approximately )
One Way
₹163.00 (Approximately )
Child Ticket (BELOW 110 CMS)
₹195.00 (Approximately )
Sampoorna Darshan
PREMIUM TICKET- 6 ROPEWAYS
Valid for 1 year (Ambaji Gabbar, Pavagadh, Girnar, Mansa Devi, Chandi Devi, JatayaPara, Malampuzha, Taratalini)
₹799 (Approximately )
The above-mentioned charges might change.

Details For Chandi Devi Ropeway Booking
Half Ticket for children less than 110 cm in Height.
Student ID is mandatory for Student Group pass
Retain your ticket till the end of the journey.
Tickets are non-refundable and non-transferable.
Online Booking is available on udankhatola.com
Travel duration: 10 mins. Available daily.
Note: The tickets you buy are valid for 3 days. The tickets are not available online. You need to buy tickets from there itself streamed in a line separate for gents and ladies.
Other Temple in Haridwar
Har Ki Pauri Ganga Temple
Daksh Mahadev Temple
Bharat Mata Temple
Neeleshwar Temple
Jain Temple
Saptrishi Ashram
Vaishno Devi Temple
Gaurishankar Mahadev Temple
Mahamrityunjaya Temple
Bilvkeshwar Mahadev Temple
Pawan Dham Temple
Doodhadhari Barfani Temple
Anjana Devi Temple
Sati Kund Temple
Siddhpeeth Shri Dakshin Kali Mandir
Chandi Devi Photos and Video