Important information
Location: Somnath Mandir Rd, Veraval, Gujarat 362268, Indian
Festivals: Shivratri For Other Festival Details Click here
Main Deity: Lord Shiv (Somnath)
Languages: Gujarati & Hindi
Darshan Timings: 6:00 AM TO 9:00 PM
Best Season To Visit: October to February
Dwarkadhish Mandir Contact Number:+919428214915
Note: Mobile, cameras & electronic equipment are not allowed on temple premises.
The Somnath temple is located in the Prabhas Patan near Veraval in Saurashtra on the western coast of Gujarat and is believed to be the first among the twelve Jyotirlingas of the Shiva. It is an important pilgrimage and famous tourist spot in Gujarat.
The name of the town Prabhas, meaning luster, as well as the alternative names Someshvar and Somnath ("The Lord of the moon" or "the moon god"), arise from this tradition.
The Sound & Light Show "Jay Somnath" is also displayed every night from 8.00 PM to 9.00 PM, which allows the pilgrims an ethereal experience in the backdrop of the grand Somnath temple and the holy wave sounds of the Ocean.
History of Somnath Mahadev Jyotirling
There was a time when the Moon (Chandra Dev) did not wax and wane as we see today. His radiance was not of a changing nature. Chandra Dev was married to all the 27 daughters of Prajapati Daksh. Chandra Dev was charged with partiality to among them– Rohini as well as was cursed by Prajapati Daksh to lose his radiance. This would cause His death as Chandra Dev could not exist without his radiance. Chandra Dev was advised by Lord Brahma to pray to Lord Shiva for relief from this curse.
Complying with the suggestions, Chandra Dev is involved in this sacred place, which is likewise the convergence of 3 rivers – Hirana, Kapila, and Saraswati. He prayed and also meditated for thousands of years after which Lord Shiva was pleased and also appeared to relieve Chandra Dev of His curse. Nonetheless, a curse provided by Prajapati Daksh can not go in vain, so Lord Shiva reduced the effect and also provided Chandra Dev a place on His head.
From then Chandra Dev would lose his radiance progressively over 15 days and also reclaim it over the next 15 days. Hence began the shaving as well as the waning of the Moon. Incredibly thankful, Chandra Dev constructed a temple made from gold and also dedicated it to Mahadev, who kindly agreed to remain there in the form of a Jyotirlinga. This was the very first and initial Somnath Mahadev Jyotirling. Somnath Jyotirlinga Mandir is also referred to as 'The Shrine Eternal'.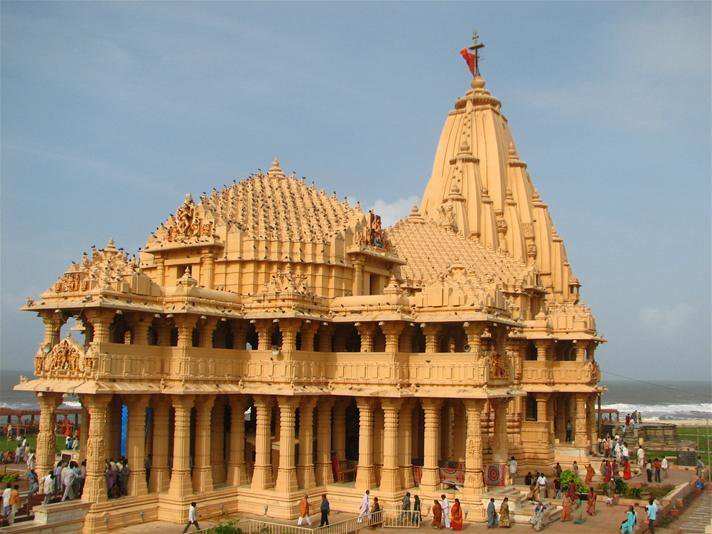 In known times, the earliest temple was integrated in 649 BCE by the Yadava dynasty on the exact same site. Afterward, it had been renovated a number of times. In later times, from 1025 CE to 1660 CE, the temple was ruined and looted by numerous Muslim invaders as well as leaders yet rebuilt each time.
The modern temple was reconstructed by the resolve of Sardar Patel who visited the ruins of Somnath temple on November 13, 1947. Then President of India, then Dr. Rajendra Prasad did  Pran-Pratistha at the existing temple on 11 May 1951.
Importance of Somnath Mahadev Jyotirling
Somnath Mahadev is the Earliest of These 12 Jyotirlingas of India. Its location at Hindu spiritualism is at the maximum level. Another variable is its distinctive site. Apart from being in the Triveni Sangam (Confluence of all Hirana, Kapila and the now disappeared Saraswati rivers), it's located in this location that there isn't any property in a direct line in the temple into Antarctica. This is composed in Sanskrit on the early Banastambha (Arrow Pillar) of this temple.
Architecture of Somnath temple
Today structure is built in the Chalukyan style of architecture as well and the Sompura Salats, Guajarat's master masons, have left an undeniable imprint of their abilities in the building and construction of this impressive holy edifice. The main spire is 15 meters in height, enhanced with an 8.2-meter flag pole at the top.
The shrine is constructed with such accuracy that there is no landmass throughout a straight line between Somnath as well as Antarctica. This extremely unique attribute underlines the relevance of the shrine as a spiritual center and also pays tribute to the excellence of the craftsmen.
Other Place Near Somnath Temple
Somnath Beach
Triveni Sangam (Triveni Ghat)
Veraval Beach
Prabhas Patan Museum
Panch Pandav Gufa
Vallabhghat
Other Temple Near Somnath Temple
Lakshmi Narayan Temple
Gita Mandir, Somnath
Shree Parshuram Temple
Kamnath Mahadev Temple
Bhimnath Mahadev Somnath
Bhalka Tirth, Somnath
Dehotsarg Tirth
Prachi Tirth Somnath
Shri Bhidbhanjan Mahadev Mandir
Shree Ram Mandir – Somnath Trust
How To Reach
By Road – The temple city lies 82km from Junagadh, 270km from Bhavnagar, and 120km from Porbandar. Ahmedabad is just 400km away from Somnath.
By Train – Somnath is the nearest railway station, is well connected to other major towns in Gujarat and India.
By Air – Porbandar Airport is 120KMs and Rajkot airport is 200KMs away.
Festivals
Kartik Poornima: Kartik Poornima comes from the month of November/December and is also a significant festival celebrated in Somnath. Kartika Purnima celebrates the energy of Lord Shiva; it's held that Lord Shiva murdered the devil Tripusara this afternoon therefore Shiva temples are packaged with devotees to celebrate the occasion. In the Hindu calendar, the Kartik month of October- November will probably be the holiest month of this year. Kartika Purnima comes at the conclusion of the Hindu month of Kartik and coincides with the comprehensive moon day. This day of Kartika Purnima is also called the festival of Dev Diwali.
Diwali: Diwali is the most important festival celebrated by Hindus. It's also called the Festival of Lights or even Dipavali. This festival will come in the month of October or even November. Diwali in Somnath is famous for pomp & show.
Maha Shivratri: Lord Shiva, the city celebrates Maha Shivratri with much display and self-confidence. The festivities are appreciated by the countless devotees from March month. The Shivratri Festival is much awaited by Hindu girls. On Shivaratri, unmarried and married girls do puja with tremendous hope for the good of the family lives. Even though Lord Shiva is seen as an ascetic god, Maha Shivratri is famous for being a hermit. Thandai is a beverage made out of bhang, almonds, and milk. It's essentially drunk by the spiritual on the Day.
12 Jyotirlingas of Shiva in India
Somnath Temple Timings
Somnath Temple Darshan Timing
Somnath Temple Aarti Timing
| | |
| --- | --- |
| Morning | 7:00 AM |
| Afternoon | 12:00 PM |
| Evening | 7:00 PM |
The timing for the "Jay Somnath" Sound and Light Show: