Important information
Location: Baltal Amarnath Trek, Forest Block, Anantnag, Pahalgam, Jammu and Kashmir 192230
Festivals: Shravan
Main Deity: Lord Shiva, Mata Parvati, and Lord Ganesh
Languages: Hindi & English
Darshan Timings: 6:00 AM to 6:00 PM (28 June to 22 August 2021 )
Best Season To Visit: June to September
Mahamaya Shakti Peeth is one of the 51 Shakti Peethas located at Amarnath Cave, Jammu, and Kashmir. The Amarnath cave is situated at an altitude of 3,888 meters (12,756 feet). The entire area is covered with snow most of the year except for a short period of time in summer when it is accessible for pilgrims. It is also called Parvati Shakti Peeth.
It is treated as one of the essential holiest places as part of Hinduism. Challenging hill terrain and climate, too many devotees come to this shrine. It is believed that the temple is much older than 5000 years.
Amarnath temple Online Booking, History, Poojas, opening & closing Dates
Mahamaya Shakti Peeth Amarnath History, Photos & Timings
History and Significance of Mahamaya Shaktipeeth
The chief legend of Tripurmalini relates to the creation of the Shakti Peethas. Sati, the daughter of Prajapati Daksha, was married to the god Shiva versus his wishes. Daksha arranged a great yajna but did not invite Sati and also Shiva. Uninvited, Sati reached the yajna-site, where Daksha ignored Sati as well as Shiva.
Sati Not able to withstand this insult. So, Devi Sati gave her life by jumping into the fire of Havan organized by her father King Daksh. When Lord Shiva was running around the planet carrying her body that Lord Vishnu divided the body into 51 parts utilizing his Sudarshan chakra. Out of those 51 parts, from which the 'Throat' of Sati fell to this place.
Amarnath Dham, in addition to the world-famous snowy Shiva Linga, Mahamaya Shaktipeeth, is additionally incredibly popular among the devotees. According to legend, Lord Shiva was offering the lesson of immortality to his wife, Parvati, at this place. Shiva Bhairo is worshiped as Trisandhyeshwar, as well as Goddess Parvati is recognized as Mahamaya Shaktipeeth. The organs of Sati, as well as Jewelry, are worshiped in this temple as her throat was demolished.
It is believed among the devotees that one that worships as well as revere's Goddess Mahamaya and also Trisandhyeshwar form of Amarnath dweller Lord Bholenath, enjoys all the pleasures in this world and also gets a place in Shivaloka. Yearly the local government arranges the yearly Amarnath Yatra for Shiva devotees. The trip is mainly organized from June to August. Vibhuti Prasad is offered to devotees in this cave.
Discovery of Lingas
During the 15th century there lived a shepherd called Buta Mallik, once a saint gave a bag of coal which became gold when he reached his home. He returned to the place to say thanks to the saint however he went away, and in search, he located a holy cave and also Shiva Linga. He told the whole story to his villagers as well as began worshipping.
The architecture of Mahamaya Shaktipeeth
The Temple is made my natural cave so there is no man-made temple. It is believed that the temple is much older than 5000 years. In the temple, we discover ice stalagmite forms of goddess Mahamaya and Lord Shiva as Trisandhyasvar as well as Lord Ganesh.
Idol/ Deity of Mahamaya
In the temple, we discover ice stalagmite forms of goddess Mahamaya and Lord Shiva as Trisandhyasvar as well as Lord Ganesh.
Festivals at Mahamaya Shaktipeeth
The Temple is open during Amarnath Yatra. So, Amarnath Yatra is a festival of this temple.
How To Reach Mahamaya Shaktipeeth
Mahamaya Shakti Peeth of Amarnath is located at an altitude of 12700 feet, 141 kilometers from Srinagar in Kashmir, India. There are 2 routes to get to the Amarnath cave – one route goes through Baltal, 70 km from Srinagar, which is definitely tiny in terms of walking however is quite dangerous. The second route starts from Pahalgam, which goes via Chandanwari, Sheshnag, Panchtarni. Most travelers take this path. (For More information Routes to Amarnath Temple)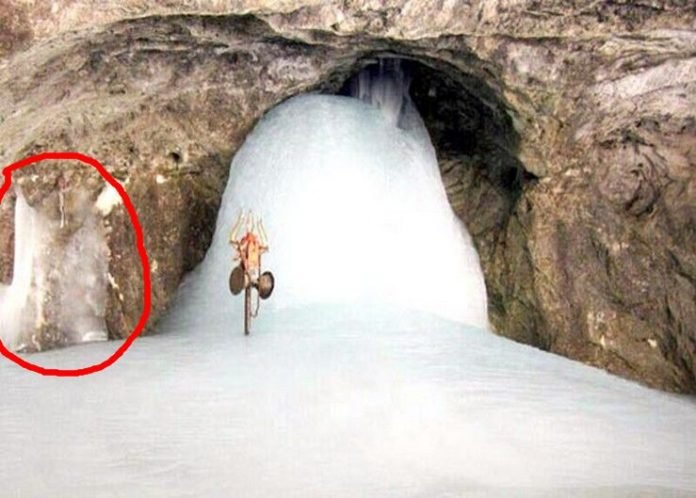 By Air
The nearest airport is the Srinagar International Airport that is well connected to cities like New Delhi, Mumbai, Goa, Bangalore, Leh, Chennai, Chandigarh, Jammu, and Amritsar. The airport connects the city of Jeddah with a flight operated by Air India.
Helicopter services are operated from Srinagar by private operators till Panjtarni, 6 km from the cave.
By Rail
The nearest railway station to Pahalgam is Jammu Tawi, from where the trek begins. Jammu is well connected to almost all the major cities in India like New Delhi, Mumbai, Chennai, Bengaluru, Kolkata, Lucknow, Bhopal, Ludhiana, Hyderabad, and Allahabad.
By Road
The Jammu and Kashmir State Road Transport Corporation (JKSRTC) operates regular buses to Pahalgam and Baital from Jammu and Srinagar.
Other places of worship and Travels
Pahalgam – A hill station in Jammu and Kashmir
Sheshnag Lake – An alpine high altitude oligotrophic lake
Baltal Valley – Beautiful Valley at the starting point of Amarnath Yatra
Sri Shankaracharya Temple
Martand Sun Temple
Mamleshwar Shiva Temple – A temple in Pahalgam
Tulian Lake – Outstanding tourist destination at Pahalgam
Thajwas Baltal Wildlife Sanctuary – Protected area in Jammu and Kashmir
Mahamaya ShaktiPeeth Opening & Closing Timing, Aarti and Pooja Timings
Mahamaya Temple Opening and Closing Timing
Vyas Purnima to Shravan Purnima
| | |
| --- | --- |
| Amarnath (Mahamaya) Temple Opening Date | Amarnath (Mahamaya) Temple Closing Date |
| 28 June 2021 (Approximate) | 22 August 2021 (Approximate) |
Mahamaya Temple Daily Darshan Timing from Opening Date
Poojas at Amarnath Temple (Mahamaya ShaktiPeeth)
Pratham Pooja: The Pratham Pooja means the "First Pooja". This pooja is performed at the holy cave on the day the Yatra is declared open. The members of the J&K Government, as well as the Shri Amarnath Shrine Board, attend the pooja without fail. Several Vedic mantras, as well as Shlokas, are chanted in praise of Lord Shiva, following which the Prasad is distributed among the devotees. The pooja ceremony involves Bhoomi Pooja, Navagraha Pooja, Chhari Pooja, and lastly the Dhwajarohan indicating the beginning of the yatra. The pooja is held on the day of Vyas-Purnima (July).
Chhari Mubarak: The auspicious event marks the end of the Amarnath Yatra. The Chhari refers to the holy mace of Lord Shiva that he gifted to the Sage Bringesh. The Chhari Mubarak is taken to the shrine on the day of Shravan Purnima, also celebrated as the Raksha Bandhan. After the Pratham Pooja, he Chhari is then returned to the Dashnami Akhara where it is kept for darshan. Special Poojas are performed for Naga Panchami. Then the mace is carried to the holy Amarnath Shrine by the traditional route.
Amarnath Yatra Registration Procedure Step By Step
Mahamaya ShaktiPeeth Videos & Images