Important information
Location: Tanda Rd, Shiv Nagar, Industrial Area, Jalandhar, Punjab 144004, India
Festivals: Navaratri, Shivaratri For Other Festival Details Click here
Main Deity: Tripurmalini (Shakti)
Languages: Punjabi, Hindi & English
Darshan Timings: 07.00 AM To 07.00 PM
Best Season To Visit: September to December
Photography: No
Tripurmalini Shakti Peeth | Devi Talab Mandir Contact Number: 0182291252
Tripurmalini Shakti Peeth is located in Jalandhar, Punjab. It is one of the 51 Shakti Peeth. It is also known as Devi Talab temple because the temple is located in the middle of a sacred pond. and it's believed to be more than 200 years old. In Tripurmalini The breast of Mata Sati fell here. so, it is also known by the name of Stanpeeth.
It was founded by a retired session court judge Sh. Mohan Lal Chopra. And their son sh Surinder Mohan Chopra also devoted their entire life to serving the temple. There is additionally a temple dedicated to the deity Kali besides the main temple. One of the prime attractions of the temple is an old tank, which is considered to be sacred by the Hindu devotees.
History of Tripurmalini Shaktipeeth
The chief legend of Tripurmalini relates to the creation of the Shakti Peethas. Sati, the daughter of Prajapati Daksha, was married to the god Shiva versus his wishes. Daksha arranged a great yajna but did not invite Sati and also Shiva. Uninvited, Sati reached the yajna-site, where Daksha ignored Sati as well as Shiva.
Sati was not able to withstand this insult. So, Devi Sati gave her life by jumping into the fire of Havan organized by her father King Daksh. When Lord Shiva was running around the planet carrying her body that Lord Vishnu divided the body into 51 parts utilizing his Sudarshan chakra. Out of those 51 parts, from which the 'Left Breast' of Sati fell to this place. Here Sati is called Tripurmalini and Lord Shiva is called Bhishan Bhairav.
Tripurmalini Shakti Peeth was built at the place where the breast of Mata Sati fell, that's why it is also known as Stanpeeth. Additionally, It is said the idol holds up the power of Mata Vaishno Devi, Maa Lakshmi, and Maa Saraswati as well, all these devis fulfill all wishes of devotees. Just like another Shakti Peethas, a Diya always keeps flaming here as well. A large number of devotees mainly visit Tripurmalini Shaktipeeth on Sundays and Tuesdays. Here Goddess is in the form of Shakti.
Significance of Tripurmalini Shaktipeeth
Some people believe that whoever dies by chance at Tripurmalini Shaktipeeth, goes to heaven after death. Even the birds or animals dying at this place are free from the cycle of birth and death. According to another belief, all the Gods are present here partly to meet Matarani. Worshipping here and at every Shaktipeeth is considered especially favorable. By worshipping, we all are in the safe and protective hands of Matarani.
Different sages like Vashishtha, Vyasa, Manu, Jamdagni, Parshuram, etc., worshipped Adhya Shakti here, in the form of Tripura Malini.
The architecture of Tripurmalini Shaktipeeth
While the old Devi Talab has been renovated. Devi Talab Temple is built in the middle of the pond. An old temple of Goddess Kali also stands to the side of the Devi Talab. There is a 12-meter-long road to get there. The peak of the temple is covered with gold.
Other Temple in Devi Talab Mandir Campus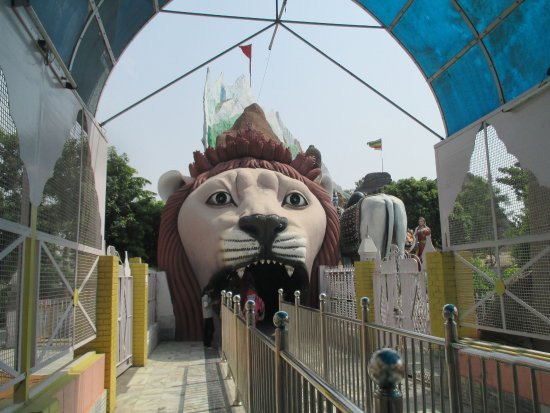 Idol of Maa Tripurmalini
In this temple, the breast idol is covered with a cloth in the back place. While the metal face of the idol is visible outside.
Festivals at Tripurmalini Shaktipeeth
Navratri
Shivratri
A big fair which organized on April's First Friday.
In the month of December popular ritual called Harballabh Sangeet Sammelan is conducted during which many children sing songs praising Lord Durga and also recite slokas.
How To Reach Tripurmalini Shaktipeeth
By Air
The nearest Amritsar airport is 26 kilometers from Devi Talab Mandir.
By Rail
The Nearest Jalandhar Railway station is 4 Km away from Devi Talab Mandir.
By Road
There are many private and public transport available to reach Tripurmalini ShaktiPeeth Temple Jalandhar.
Other Places Near Temple
Hanumanji Mandir.
The Jagatjeet palace
Dakhni Sarai
Akshardham Mandir.
Rangla Punjab Haveli ( about 15 km)
Wonderland Theme Park(about 12 km)
St. Mary's Cathedral Church(about 11 km)
Jang-e-Azadi Memorial(about Jang-e-Azadi Memorial)
Tripurmalini (Devi Talab) Temple Timing
Tripurmalini shaktiPeeth remains open from 7:00 AM to 7:00 PM
Time may change during festivals
Temple Videos & Images
Kali mata ke mandir ka devi talab main kya timing hai?
7:00 AM To 7:00 PM