Important information
Location: Kathmandu 44621, Nepal
Festivals: Navaratri, Dashain
Main Deity: Parvati (Guhyekali
Languages: Hindi & Nepalese
Darshan Timings: 07.30 AM To 07.30 PM
Best Season To Visit: October to March
Photography: Not Allowed
Guhyeshwari Temple is one of the respected holy temples. It is located about 1 km east of Pashupatinath and is located near the banks of the Bagmati River in Kathmandu, Nepal. This temple is dedicated to Guhyeshwari. The goddess is also called Guhyekali. It is a significant pilgrimage destination for the general Hindu, and Buddhist Newar community and specifically for Tantric worshipers. It is one of the UNESCO World Heritage Sites in Kathmandu.
The temple name originates from the Sanskrit words Guhya (Secret) and Ishwari (Goddess). In Lalitha Sahasranama the 707th name of Goddess is indicated as 'Guhyarupini' meaning The form of Goddess is beyond human awareness and is a secret. Another statement is that it is the secret 16th syllable of the Shodashi Mantra.
History of Guhyeshwari Shaktipeeth
Guhyeshwari Shakti Peethas is about 2,500 years old. The chief legend of Guhyeshwari relates to the creation of the Shakti Peethas. Sati, the daughter of Prajapati Daksha, was married to the god Shiva despite his wishes. Daksha arranged a great yajna but did not invite Sati and Shiva. Uninvited, Sati reached the yajna site, where Daksha ignored Sati as well as Shiva.
Sati was not able to withstand this insult. So, Devi Sati gave her life by jumping into the fire of Havan organized by her father King Daksh. When Lord Shiva was running around the planet carrying her body Lord Vishnu divided the body into 51 parts utilizing his Sudarshan chakra. Out of those 51 parts, from which 'Both knees' of Sati fell to this place. Here Sati is called Guhyeshwari, Mahamaya, or Mahashira, and Lord Shiva is called Kapali. 
The temple was constructed during the empire of King Shanker Dev of the Lichhavi period with the help of Narasingha Thakur, a Tantric. The temple was later renovated by King Pratap Malla in 1654 AD with the advice of Lambakarna Bhatta, a noted Tantric. Tantric rituals are performed at the temple. Several musical instruments used during prayers were presented by King Rana Bhadur.
The temple is also mentioned in the sacred texts of Kali tantra, Chandi tantra, Shiva tantra Rahasya as one of the most important places for gaining the power of tantra. The Vishwaswarup of goddess Guheshwori shows her as a many different color-headed goddess with innumerable hands.
Significance of Guhyeshwari Shaktipeeth
The temple possesses divine female energy force and is considered the most powerful tantra Peeth as it is built above seventeen cremation grounds. It is believed that if a marriage takes place in the Guhyeshwari temple, the couple will be soul mates for another 6 generations. Sati (goddess) married Shiva and was reborn as Parvati in her next birth. Women pray in Guhyeshwari Temple to improve their husbands' health. The worship performed here leads to victory over enemies.
While visiting these temples, the Guhyeshwari Temple is visited before the main Pashupatinath Temple. The Guhyeshwari Temple is worshipped first and then other temples are visited. It is because of the belief in worshipping Shakti before Shiva.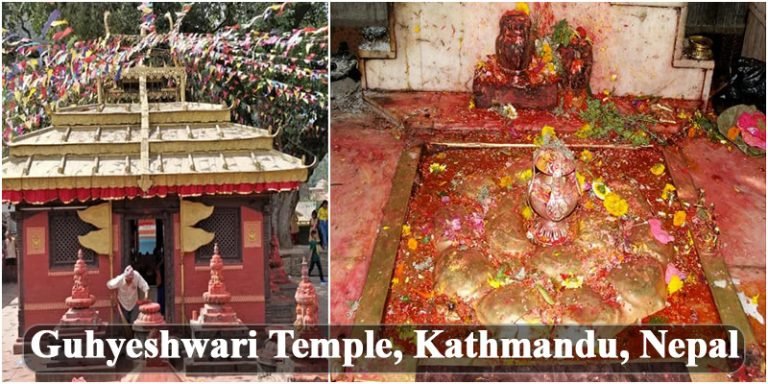 Note: Tourists not belonging to the Hindu religion are not allowed to cross
the main entrance of the temple. Also, people offer eggs and wine to the goddess.
The architecture of Guhyeshwari Shaktipeeth
Guhyeshwari Temple seems to be quite elegant and this temple is designed in Bhutanese pagoda style of architecture. Though the exterior of the temple is quite simple and not very attractive, the inside of the temple is well decorated with flower motifs and structures.
Hindu and Buddhist Assimilation:
The Buddhist Newar community performs various pujas at Guhyeshwari Temple. Newari Bhoj (feast) is also held at the temple during festivals. Newar Bajracharya Buddhists worship Guhyeshwari as Vajrayogini.
Idol of Maa Guhyeshwari
Instead of a standing figure of the Goddess, it has a flat figure parallel to the ground that is worshiped by bowing down. Next to the divine figure is a pond, the Bhairav Kunda. The goddess is worshiped at the center of the temple in a kalasha (water jar) that is covered with a layer of silver and gold. Devotees put their hands inside the pond and whatever they get is considered holy and is accepted as a blessing from the divine.
Festivals at Guhyeshwari Shaktipeeth
Navratri
Shivratri
Durga Ashtami
Dashain (The great harvest festival of Nepal, Dashain is a time for family reunions, exchange of gifts and blessings, and ornate pujas. )
Guhyeshwari Yatra is a festival, which is a tour that starts from Guhyeshwari following Pashupatinath Temple and ends at Hanuman Dhoka, Basantapur. This tradition has been prevalent since early times.
Guhyeshwari Fair (November)
How To Reach Guhyeshwari Shaktipeeth
By Air
The best way to reach Guhyeshwari temple from India is by taking a flight to Kathmandu. Tribhuvan International Airport is almost 5 km away from the main city.
By Rail
There is no direct rail connectivity between the two nations. The most likely option for you is to travel from Delhi to Kathmandu by train via Gorakhpur.
By Road
There are four border crossings for visitors who travel from India via highways. You can travel to Kathmandu from Delhi via bus or car. And it takes 20 hours at least to go via road.
Temple near Guhyeshwari Shaktipeeth
Shri Pashupatinath Temple(about 1 kilometer)
Bacchareshwari Temple(about 950 meter)
Laxmi Narayan Temple(about 6.8 kilometers)
Manakamana Temple(about 230 meters)
Maitidevi Temple(about 2.9 kilometers)
Shiva Temple(about 3.3 kilometers)
Tridevi Temple(about 5.1 kilometers)
Venktesh Mandir Devasthan(about 1.6 kilometers)
Gorakhnath Temple(about 240 meters)
Bageshwori Temple(about 1.2 kilometers)
Saraswati Temple(about 600 meters)
Nearby Attractions
Swayambhu Stupa, Kathmandu(about 8.5 kilometers)
Kathmandu Valley
Garden of Dreams(about 4.3 kilometers)
Shivapuri Nagarjun National Park
Rani Pokhar(about 4.8 kilometers)
Shivapuri Hill
Patan Durbar Square(about 8.9 kilometers)
Champa Devi Summit
Kathmandu Durbar Square(about 6.6 kilometers)
Bhaktapur Durbar Square
Guhyeshwari Temple Timing
Guhyeshwari Shakti Peeth remains open from 7:30 AM to 7:30 PM
Time may change during the festival
Special Rituals in Guhyeshwari Temple
During the Navratri festival, the King of Nepal accompanied by his family worships here after taking a holy bath in the river Bagmati. There are many beliefs related to the temple.
Temple Videos