Important information
Location: Ambaji, Taluka- Danta, Districs- Banaskantha-385110, India
Festivals: Navratri For Other Festival Details Click here
Main Deity: Ambaji For Other Deity Details Click here
Languages: Gujarati, English & Hindi
Darshan Timings: 07.00 AM To 9.00 PM (For Full Details Click on Darshan Timings)
Best Season To Visit: April to Oct
Contact Number: 02749262136
The Ambaji Temple is situated on Arasur Hill, near the border of Gujarat and Rajasthan, in Ambaji town, Gujarat. Shri Arasuri Ambaji Mata Temple is in the Danta taluka of Banaskantha district of Gujarat state. It is one of the 51 Shakti Peethas. Ambaji Mata temple is a major Shakti Peeth of India. Lakhs of devotees come to visit the Ambaji temple every year. the 'heart' of Sati fell to this place. The original Temple of Ambaji Mata is on the Gabbar hilltop in the town. This Temple is one of the golden Shaktipeeth.
History
The chief legend of Amabji relates to the creation of the Shakti Peethas. Sati, the daughter of Prajapati Daksha, was married to the god Shiva despite his wishes. Daksha arranged a yajna but didn't invite Sati and Shiva. Uninvited, Sati reached the Yajna site, where Daksha ignored Sati and Shiva.
Sati was not able to withstand this insult. So, Devi Sati gave her life by jumping into the fire of Havan organized by her father King Daksh. When Lord Shiva was running around the planet carrying her body Lord Vishnu divided the body into 51 parts utilizing his Sudarshan chakra. Out of those 51 parts, from which the 'Heart' of Sati fell to this place.
Legend of Holy Hill Gabbar in Devi Bhagvat
According to the Indian Scriptures, Gabbar Tirth is situated on the bank of the origin of the SARASWATI. In accordance with the legend in Devi Bhagvat, Mahisasur was a dangerous demon to the whole universe, therefore all the Gods under the leadership of Tridev Brahma, Vishnu  & Mahesh ultimately went to the final recourse to the Mahadevi Adhya Shakti, the Supreme Original Cosmic Power of The Universe and worshiped her for rescue and help. Then Adhya Devi Shakti incarnated on earth and Devi killed and absolved the demon Mahishasur with her holy sword since then she became known in the world as " Mahisasur Mardini ".
Gabbar in Ramayan
As per a legend said in Ramayan, Lord Rama and Laxman came to the Ashram of Shrungi Rushi in search of Sitaji, where they were told to worship Devi Ambaji at Gabbar. Rama did so and Jagat Mata Shakti (The Mother of Energy of the whole Universe) Devi Ambaji gave him a miraculous arrow namely "Ajay", with the help of which Rama conquered and killed his enemy Ravan in the war.
Mundan of Lord Krishna
During the period of Dwapar Yug. It is also a legend that the hairs of the holy child Lord Krishna were also removed here on this Gabbar hill, as a holy ritual ceremony of hair removing Mundan, in the presence of his foster parents Nand and Yashoda, who had worshiped Devi Ambaji and Lord Shiva.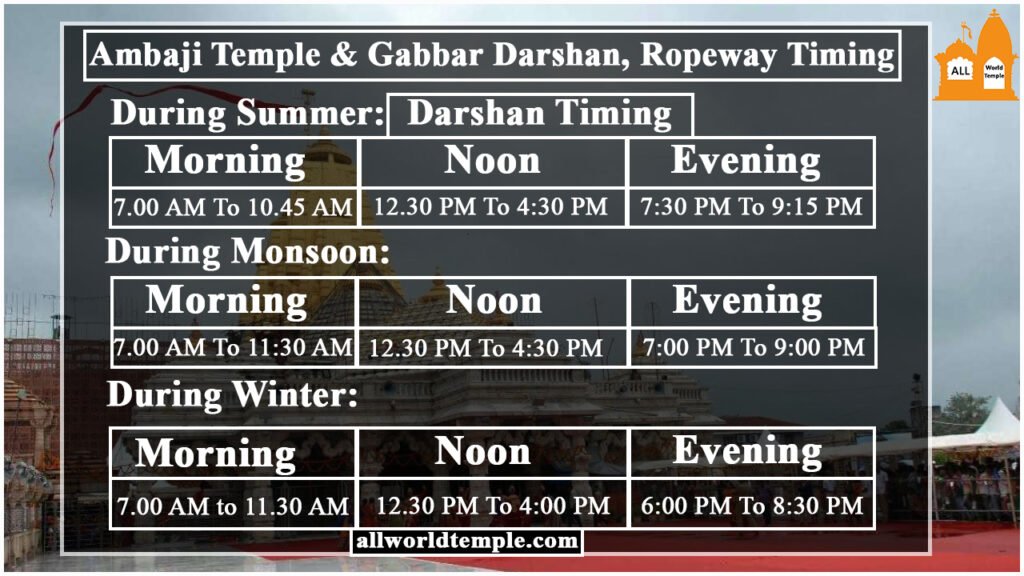 Importance & Idol
There is no idol or photo of Ma Devi Ambe but it has Yantra. There is a Gokh -cave in the wall on which gold plated marble inscription of a triangle Vishwa Yantra is fixed. This Vishwa Yantra represents the deity in the temple. This Vishwa Yantra is decked up with ornaments and special attire in a way that the ensemble resembles Goddess Ma Ambe.
Festivals
Festival
Description
Approximately Devotees
Kartik Sud (from Ekam to Pancham )
Pilgrims come from Nadiad, Anand, and Kheda districts from Teras to Amasin
10 to 12 Lakhs
Posh Sud Poonam
Annakut of Chhappan Bhog ( 56 )
2 ½ to 3 Lakhs
Chaitra Navratri

Sangh ( Group of Pilgrims ) coming from Mehsana
2 Lakhs
Shravan Vad Amas

People celebrate Navratri by performing Garba–Rass in Chacherchawk for nine ( 9 ) days.
2 Lakhs
Bhadrapad Sud
Poonam Mela
biggest Mela (funfair) of Gujarat
20 Lakhs
Aswin Sud
Navratri
People celebrate Navratri by performing Garba – Rass in Chacherchawk for nine ( 9 ) days.
10 to 12 Lakhs
Places near Ambaji Temple
Kamakshi Mandir – One kilometer away from Ambaji near Kumbharia Jain Temple on Khedbrahma Highway, there is the Kamakshidevi Temple Complex.
Kailash Hill sunset – A picnic cum pilgrimage place one and a half kilometers away from Ambaji on Khedbrahma Highway, there is a Shivalaya on the top of Kailash tekari, where one can go only by climbing the steps and walking on a hilly area of Kailash Tekari. 
Koteshwar – Just 8 km away from Ambaji near the Origin of the Vedic Virgin River Saraswati, there is an ancient temple of Shri Koteshwar Mahadev, attached to a Holy Kund and also the flows of river Saraswati from the Mouth of Cow Gaumukh incurved in a rock. According to a legend, there was an Ashram of Rushi Valmiki, the author of Ramayana, near Valmiki Mahadev temple, and the King of Mevad, Maha Rana Pratap had restored this holy temple, It is said that throughout the Mutiny of Independence in 1857, Nana Saheb Peshwa had taken his residence in the cave of this temple.
Mansarovar – Man Sarovar is behind the main temple. It is said to have been constructed by Shri Tapishanker, a Nager Devotee of Ambaji from Ahmedabad, from 1584 to 1594.
Kumbhariya – One and a half kilometers away from Ambaji Temple Town.  It has the historical Jain temple of Shri Neminatha Bhagwan which dates back to the 13th century. The Kumbhariya Jain temple of Shri Neminatha Bhagwan is now a heritage center in Gujarat.
Gabbar Parikrama Path – Shri Arasuri Ambaji Mata Devsthan Trust has developed a parikrama way circulating the Gabbar hill. The 51 Shaktipeeth temples are constructed on this Parikrama Marg. The temples are made as same as they are at their original locations. One can darshan all 51 Shaktipeeth by doing Parikrama of Gaabbar hill.
Balaram Mahadev Temple – Balram temple is 48 km from Ambaji.
Ambaji Temple Timings
Darshan timings:
During Summer:
| | | |
| --- | --- | --- |
| Morning | Noon | Evening |
| 7.00 AM to 10.45 AM | 12.30 PM to16.30(4:30 PM) | 19.30(7:30 PM) to 21.15(9:15 PM) |
During Monsoon:
| | | |
| --- | --- | --- |
| Morning | Noon | Evening |
| 7.00 AM to 11:30 AM | 12.30 PM to16.30(4:30 PM) | 19.00(7:00 PM) to 21.00(9:00 PM) |
During Winter:
| | | |
| --- | --- | --- |
| Morning | Noon | Evening |
| 7.00 AM to 11.30 AM | 12.30 PM to16.00(4:00 PM) | 18.00(6:00 PM) to 20.30(8:30 PM) |
Note :
Darshan Times varies on any Annakoot from SAAMDT or from any Devotees.
The above-indicated Ambaji Temple darshan timings schedule is subject to changes during festivals and other special occasions.
Ambaji Temple Aarti Timing:
| | |
| --- | --- |
| Morning | Evening |
| 6:30 PM approximately 45 minutes  | 6:30 PM approximate 45 minutes |
The temple opens every day.
Ambaji Gabbar Ropeway Timings, Ticket Cost, Booking:
8:00 AM TO 15:30(5:00 PM)
Types of Ticket

Final Rate including CGST and SGST
Normal (Two Way)
₹125.00 (Approximately )
One Way
₹98.00 (Approximately )
Child Ticket (BELOW 110 CMS)
₹70.00 (Approximately )
Sampoorna Darshan
PREMIUM TICKET- 6 ROPEWAYS
Valid for 1 year (Ambaji Gabbar, Pavagadh, Girnar, Mansa Devi, Chandi Devi, JatayaPara, Malampuzha, Taratalini)
₹712.72 (Approximately )
Gujrat Darshan Ticket (Validity 90 Days.)
Girnar, Pavaghadh & Amba Ji Ropeway Ticket
₹899.00 (Approximately )

Gujrat Darshan Child Ticket (Validity 90 Days.)
(5 to 10 Years) ID proof with DOB is mandatory.
₹499.00 (Approximately )
The above-mentioned charges might change.

Details For Ambaji Ropeway Booking
Half Ticket for children less than 110 cm Height.
Student ID is mandatory for Student Group pass
Retain your ticket till the end of the journey.
Tickets are non-refundable and non-transferable.
Online Booking is available on udankhatola.com
Travel duration: 5 mins. Available daily.
FAQ of Ambaji Temple
Is on-the-spot booking available for the ropeway to Gabbar Gad Ambaji temple?
Yes, On-spot booking is available for Ropeway to Gabbar Gad Ambaji temple on Udankhatola Office. and You can Buy tickets Online at udankhatola.com
temple abu ambaji shakti peeth mai mataji ka konsa ang hai
In this Ambaji Shakti Peeth Devi Sati Heart was fallen
How to donate dhwaja to the Ambaji temple?
For any type of Donation to Ambaji Temple you need to go to this link Submit Details and Click on Pay Now.
Black dress is allowed in the Ambaji temple
Yes
Whats is ambaji temple dungar name?
Gabbar
What should I wear at Ambaji Temple and Mount Abu during December?
winter wear
When did the Ambaji temple start Golden?
The process started in 2010-11 with Sankalp by the devotees to cover the temple in gold," said Chavda. "A separate bank account was opened for donations. The response was good as the work for gold plating started in 2012 itself."
Where are we can keep our mobile phones during darshan in Ambaji temple?
Free Locker Service available by Ambaji Temple Trust
Shall we visit the Ambaji temple on Amavasya day?
Yes
Are there any entry charges for the Ambaji Temple?
No, there are no such entry charges to visit the temple.
Old people can darshan at Ambaji temple?
Yes
What procedure for darshan of Ambaji temple?
To go to Ambaji temple, first, the temple administration has made a place to keep Footwear and mobile, You can keep everything there, then after that, you can get entry into the temple, if you have a small purse, you can take it.
Is it true that at night at Gabbar Ambaji temple worship goddess?
No
How to Get an E pass for darshan at Ambaji temple?
Go to this link and book your E-pass.
Jay Ambe …………………………………………………..